"Self-care" has been a hot buzzword for a few years now, and for good reason. Taking the time to treat yourself prevents burning out in the high-stress society we live in today. Whether you're a self-care pro or are just starting out, what better time to focus on becoming the best version of yourself than at the beginning of a new year (especially after the chaos of the past year)? Sure, there are the standard devices—go for a walk, take a bubble bath, make a cup of tea—but if you want to dive a little deeper, it may be time to see an esthetician. 
I pride myself as an advanced esthetician here in this Newport Beach Bubble. With over 15 years of experience and training in both five-star luxury company's, building my practices and with continuous trainings I know skin care, and I know exactly how to make you feel your best inside and out.
As estheticians, we are trained in a wide variety of practices related to skin care, including facials, chemical peels, body wraps, and even hair removal. Some are experts in the cucumbers-over-the-eyes spa facial that most people think of when they hear the word "esthetician," but others, like myself, specialize in fields such as anti-aging and use medically advanced equipment in their work, like micro-current or radio frequency, a "muscle toning and lifting machine."
While looking younger on the outside is appealing to many, the true beauty in seeing an esthetician is how it can make you feel, both physically and emotionally. One of the major emotional benefits comes from what we call "touch therapy," which is a great stress reducer in times like this. It's what makes you feel so relaxed after getting a massage or a pedicure. A reduction in stress levels not only increases feelings of relaxation and happiness in general, but it can also diminish inner anxiety you may be feeling, loosen any tenseness you're holding in your muscles, and help you feel more prepared to conquer the day ahead of you. 
Let me point out that the root word of esthetician is "aesthetic," which suggests ideas of beauty. I have loved the efficacy of medical procedures with plastic surgeons, but I really feel like people get a deeper, more balancing impact from typical spa facials with a lot of pressure points, massage techniques, and therapeutic touch. I believe that if you have the right fusion of having that touch therapy, it's very emotional. A lot of people will come to me and ask, 'When can I come again?' And it's not necessarily because they need to come see me again two weeks later for a treatment but because they want that therapeutic touch. Seeing an esthetician can also eliminate that panicky feeling of standing in the aisle at the drug store or beauty retailer trying to figure out which of the hundreds of products on the shelf will work best for you. A good esthetician can recommend products that are potent with active ingredients as opposed to the overwhelming number of over-the-counter products that may only have small amounts of active ingredients and, therefore, don't have much efficacy.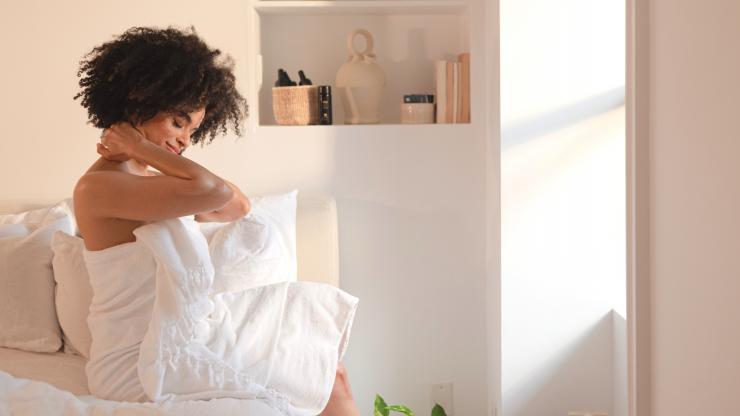 In a world where the average person's daily schedule involves waking up, going to school/work, running errands, running your home, and going to bed just to get up and do it all over again the next day, it's difficult to be your best self. Seeing an esthetician can help you take a step back and reevaluate your priorities in the coming year. You're slowing your breath down and getting into your body and out of your head…. People get so caught up in their head about what's next or what's on their to-do list, and it's a reminder of how good you can feel if you just take the time to slow down.
If fear of seeing an esthetician is holding you back from looking and feeling your best in this new year, I have seen it all and there is no need to be fearful when you're in the treatment room. We often have clients who are wary of getting a facial treatment because of previous break outs or experiences they've seen on social media or TV. Let's look back on the scene in Sex and the City when Samantha gets a chemical peel that turns her face bright red. They say, 'Peels are going to make me look horrible.' That's absolutely not true. There's all kinds of different peels. My team and I also stress that our office we practice services that are within our scope of practice. We will not perform services that we have no training on. Additionally, that to COVID we can assure you that we are sanitized and HEPA-filtered, lowering the risk of spreading illness.
As we continue through this new year, it's time to focus on being our best physically, emotionally, and mentally. It doesn't matter if you've already broken your resolution or if you didn't set any to begin with; it's never too late for a fresh start, and that can begin with calling up a local esthetician for a consult.